Premier Man brings you smart and stylish outsize tailoring
If it's smart you want then it's smart you'll get from Premier Man with our fantastic selection of outsize men's tailoring that includes large men's trousers, big men's shirts, tailored jackets and smart waistcoats in a big size range. With waist sizes up to 64in, collar sizes to 23in and 27in to 36in inside leg trousers you'll certainly find we have a brilliant choice of sizes for all men in our large men's tailoring.
A great collection of large men's suits in a big size range
Big men's trousers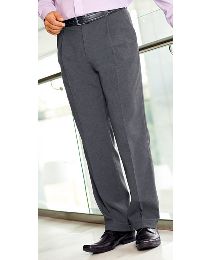 Big men's trousers
Lots of styles and colours
We have such a great choice of smart large men's trousers that are perfect for the workplace or special occasions in lots of styles. We have black, navy, grey, blue, brown and beige big men's trousers so you'll certainly find a pair to match your jacket and shirt. Our outsize men's trousers come in a big size range up to a 64in waist and from a 27in to 36in inside leg.
Big men's shirts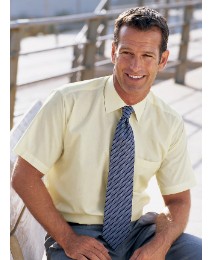 Big men's shirts
So many different styles
At Premier Man we have such a fantastic choice of short and long sleeved big men's shirts that you'll be spoilt for choice. From plain and patterned to striped and checked, our large men's shirts also span so many colours from versatile white, grey and black to vibrant blue, yellow and pink. Our big men's shirts go up to a 23in collar size so whatever size you are you'll find outsize men's shirts to suit your requirements.
Suit jackets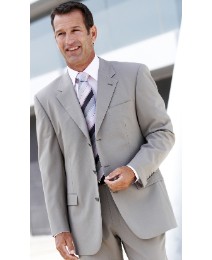 Suit jackets
Smart and tailored outerwear
To complete your smart look we have lots of tailored jackets for big men in so many colours and styles including black, brown and blue to match your choice of pants, as well as checked and striped suit jackets. We have single and double-breasted suit jackets for men as well as formal dinner jackets. Our big men's suit jackets go up to a 46in chest and are also available in long and short length suit jackets.
Waistcoats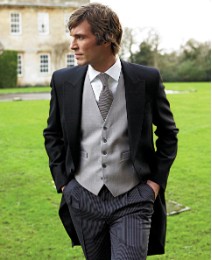 Waistcoats
A stylish addition to a suit
A really smart and stylish addition to a suit, men's waistcoats are perfect if you want to smarten up your suit or you simply want to add a stylish twist to a more casual outfit. We have waistcoats for big men in lots of colours including grey, black, gold and red. A waistcoat is especially stylish for a special occasion like a dinner or wedding.
Long and short length men's trousers
At Premier Man we specialise in providing plus size men with well fitting and flattering clothes and it's no different with our outsize men's tailoring that is designed to fit larger men perfectly.
Our smart big men's trousers are available up to a 64in waist and what's better is that we also do long and short length men's trousers with 27in to 36in inside legs, so what ever your size and height you'll find we have smart big men's trousers of all shapes and sizes.
Great value for money large men's suits
If you need a full suit and would rather not buy your trousers and jacket separately, why not take a look at our fantastic value for money outsize men's suits that all come with large men's trousers and tailored jackets, while some of our outsize men's suits also include a smart waistcoat as a three piece suit set.
We have men's outsize tailoring in black, grey, blue and brown with plain and pinstriped designs, so all you need is a shirt and smart shoes and you're good to go.