Large men's nightwear including big men's pyjamas
Premier Man has a big choice of big men's nightwear, available to buy online in the UK any time 24/7. You'll find big men's pyjamas to sizes 2XL, 3XL, 4XL and 5XL, men's terry cloth robes, big men's nightshirts and pyjama short sets, as well as thermal underwear. With Premier Man there's no need to search high and low on the high street for men's nightwear in big sizes. Shop for large men's nightwear the easy way, right here online at Premier Man.
Buy outsize men's pyjamas, towelling robes and dressing gowns
Big men's pyjamas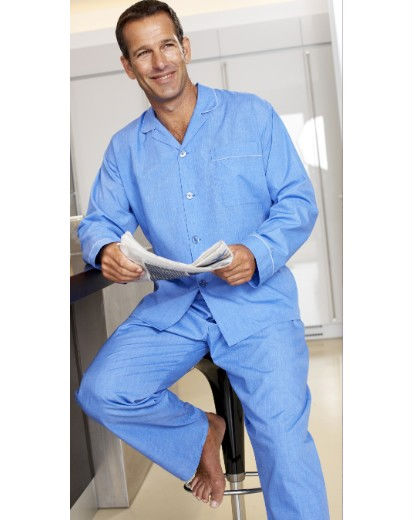 Large men's pyjamas
We've a big choice of big men's pyjamas including check pyjamas and stripe pyjamas in large sizes up to 5XL. If you like warm and cosy nightwear then try flannelette pajamas. If you like to mix and match your nightwear you can buy big men's pyjamas botoms or lounge pants separately, then team them with a T-shirt or sweat shirt of your choice for sleeping or lounging about the house.
Dressing gowns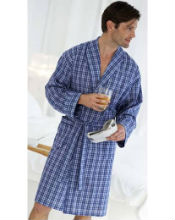 Big men's dressing gowns
When you get up in the morning, wrap up in a warm mens cotton dressing gown. Choose a men's soft cotton dressing gown, velour gown or towelling gown from our outsize men's nightwear collection available up to 2XL, 3XL, 4XL and 5XL. You'll find our nightwear offers cheap dressing gowns too so you can enjoy curling up in comfort in nightwear in your perfect size, without breaking the bank.
Robes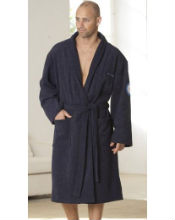 Men's terry cloth robe
A men's terry cloth robe or towelling gown is a popular alternative to a cotton dressing gown. Try a classic wrap around kimono towelling gown, a warm waffle robe or a more traditional velour gown from our large men's nightwear range. Pop on a men's terry cloth robe when you get out of the bath or wear it like a dressing gown. A men's terry cloth robe will feel great against your skin.
Sleep shorts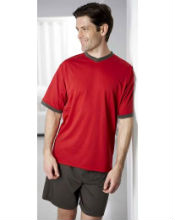 Men's pyjama shorts & tee shirt sets
As well as large men's pyjamas, Premier Man offers more contemporary sleepwear such as men's pyjama shorts and tee shirt sets. Pyjamas shorts sets are perfect if you prefer to wear nightwear in bed but find you can get quite hot in the night. We've traditional pyjama shorts sets, plus T-shirt and shorts sleep sets, all in our outsize men's nightwear range.
Big men's nightshirts
You'll love the comfort and fit of our large men's nightshirts and pyjamas. Traditional men's nightshirts can be tricky to find so shopping for them at an online store makes perfect sense.
Whether you prefer a classic button down nightshirt or T-shirt top to sleep in you'll find what you seek in large sizes at Premier Man. We've got men's slippers too to keep your feet warm and cosy morning or night, including traditional moccasin slippers and mule style slippers at cheap prices.
Men's thermal underwear
Thermal underwear can of course be worn as men's underwear beneath your clothes but it also makes great men's outsize nightwear. We've got big men's thermal t-shirts and vests, plus thermal long johns to keep you warm all night long.
There are also classic white cotton vests to wear as underwear or nightwear and classic white round neck T-shirts in an outsize nightwear range up to 3XL, 4XL and 5XL.